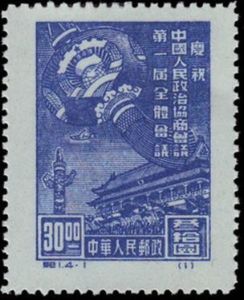 1949 1st Plenary Session of Chinese People's Political Consultative Conference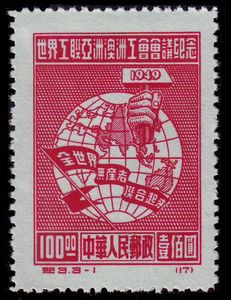 1949 Trade Union Conference of Asian And Australasian Countries

1949 Worker Soldier Peasant. Central China

1949 PLA enters Hankou. Central China

1949 Wuchang. Central China

1949 Hanyang. Central China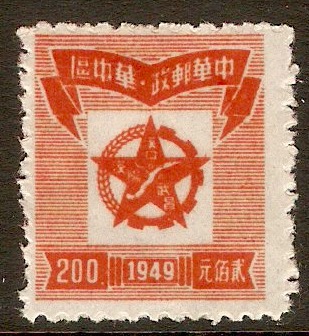 1949 Central and South China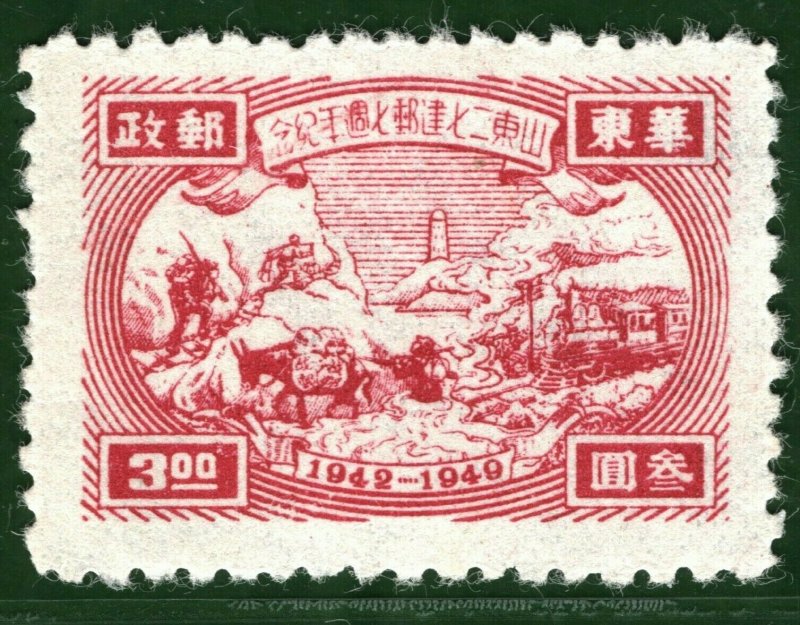 1949 East China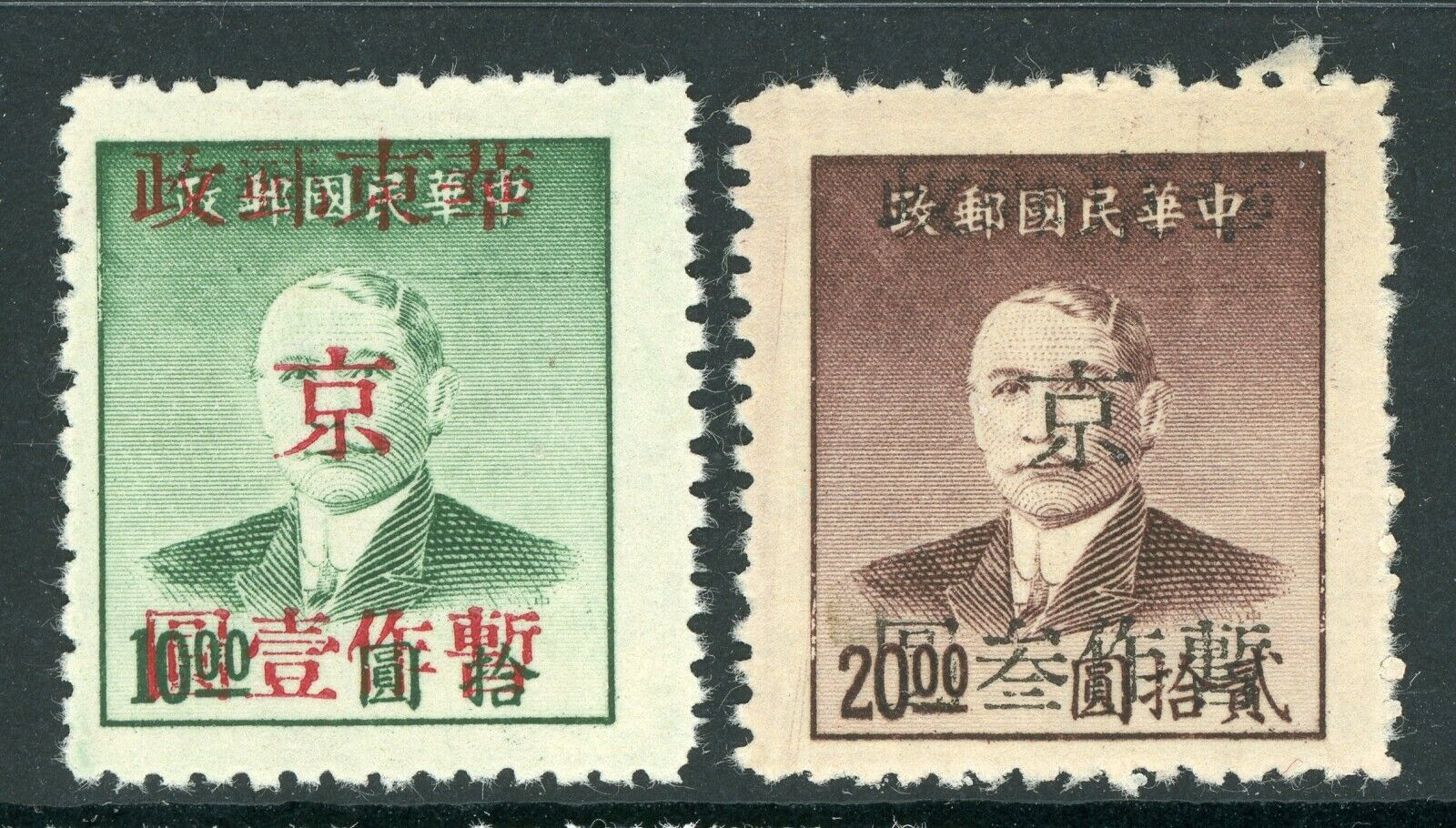 1949 East China 1949 Liberated Nanjing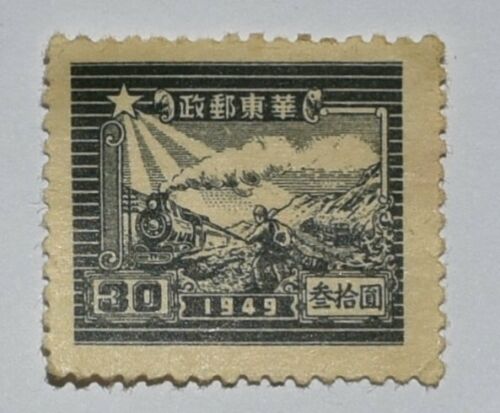 1949 Steam train. East China

1949 Victory Huai Hai campaign. East China

1949 Liberation of Nanjing and Shanghai. East China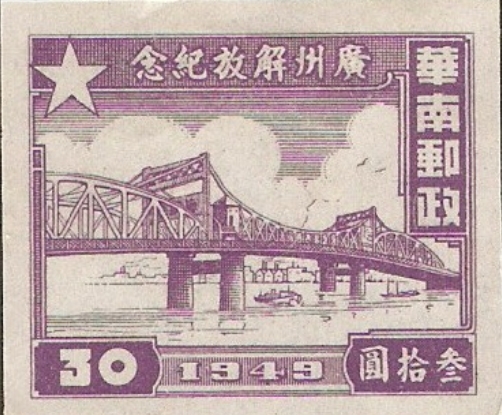 1949 South China 1949 Liberation of Guangzhou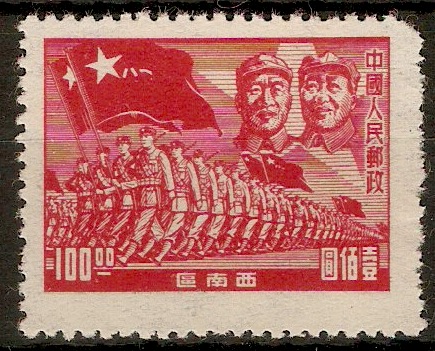 1949 Mao Zedong and Zhu De. Southwest and East China

1949 Soldiers. North China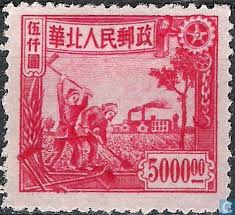 1949 Workers. North China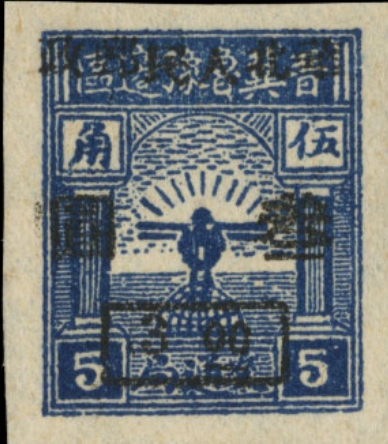 1949 North China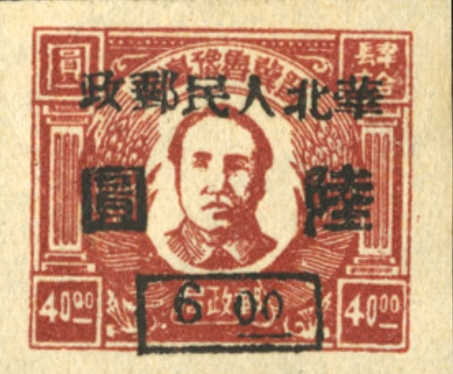 1949 North China

1949 28th anniversary of the CCP. North China

1949 28th anniversary of the CCP. Northeast China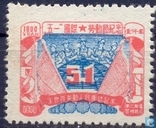 1949 Labour Day. Northeast China

1949 Production. Northeast China

1949 Production. Northeast China

1949 Production. Northeast China
1949 Production. Northeast China

1949 Production. Northeast China

1949 Mao Zedong. Northeast China

1949 The Great Wall. Northwest China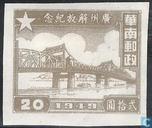 1949 Liberation of Guangzhou. South China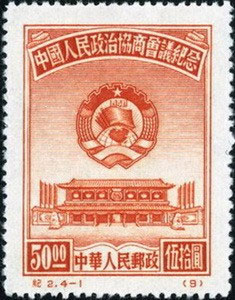 1950 Chinese People's Political Consultative Conference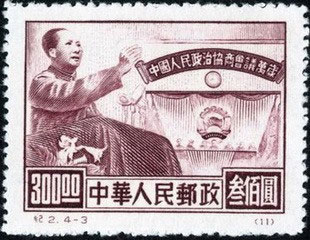 1950 Chinese People's Political Consultative Conference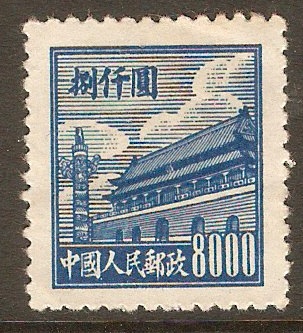 1950 Gate of Heavenly Peace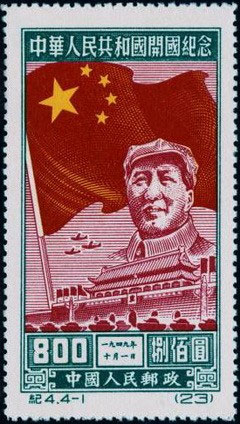 1950 1 Anniv. Establishment People's Government on 1 October, 1949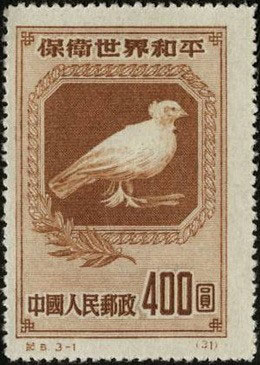 1950 Defend World Peace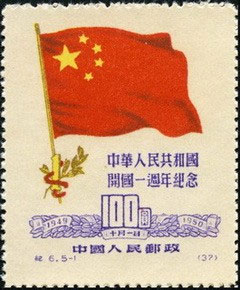 1950 First year People's Republic of China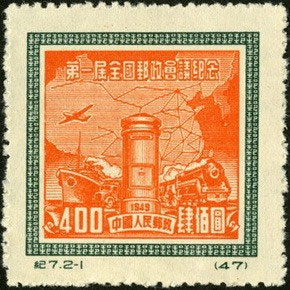 1950 First national Post conference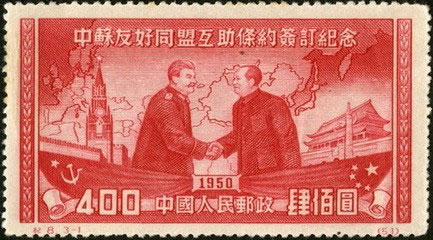 1950 Signing of Sino-Soviet Treaty of Friendship, Alliance and Mutual Assistance

1950 Mao Zedong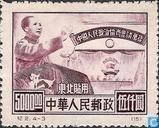 1950 2nd CPPCC meeting. Northeast China

1950 Beijing People's Conference. Northeast China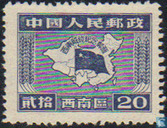 1950 Liberation of Southwest. Southwest China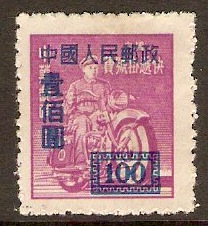 1950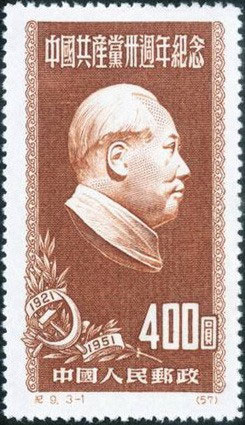 1951 30th Anniv. of Conmmunist Party of China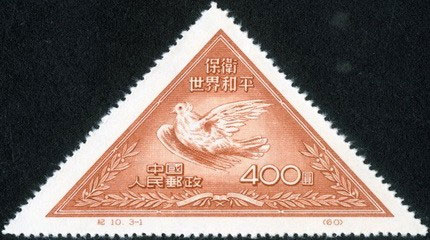 1951 Defend World Peace

1951 Remittance Stamp of China-overprints
1951 National emblem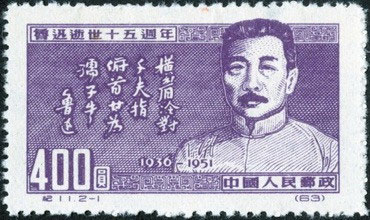 1951 15th Anniv. of Death of Lu Xun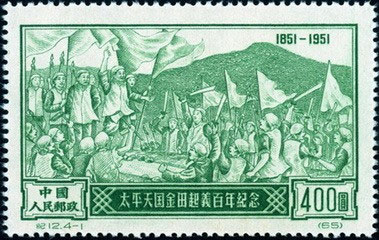 1951 Rebellion of the Peasants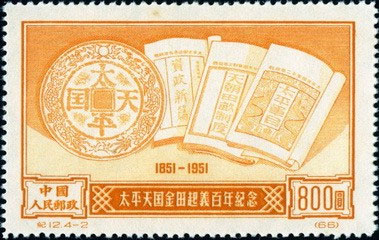 1951 Rebellion of the Peasants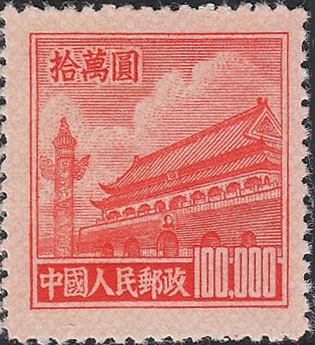 1951 Tian Anmen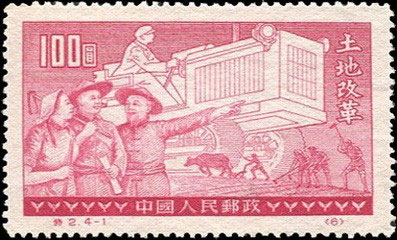 1952 Land reform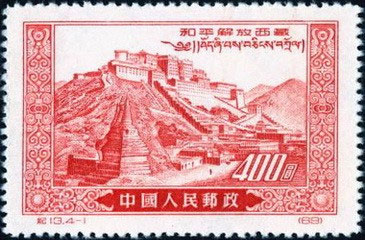 1952 Liberation of Tibet
1952 Liberation of Tibet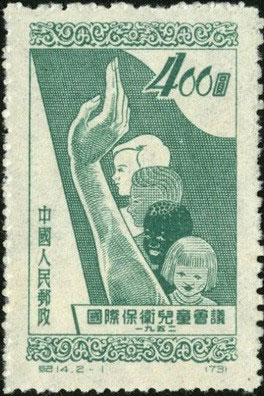 1952 International Children conference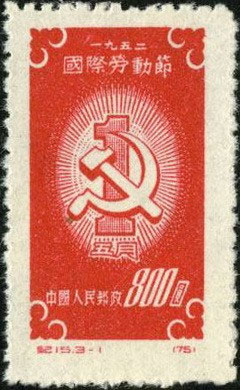 1952 Labour Day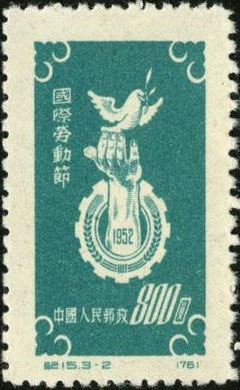 1952 Labour Day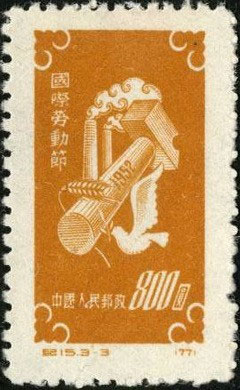 1952 Labour Day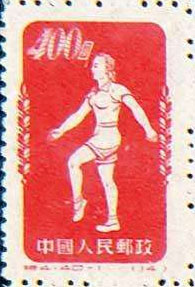 1952 Radio gymnastics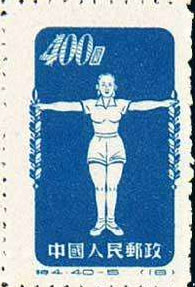 1952 Radio gymnastics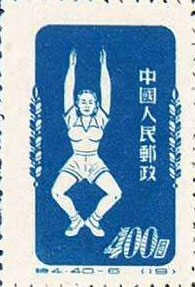 1952 Radio gymnastics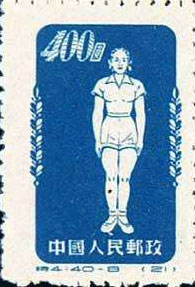 1952 Radio gymnastics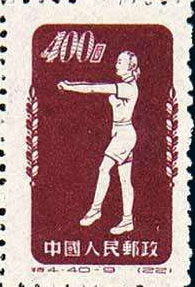 1952 Radio gymnastics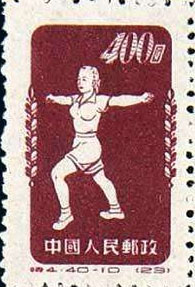 1952 Radio gymnastics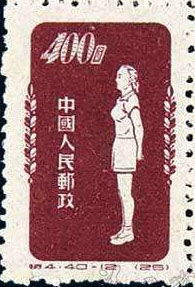 1952 Radio gymnastics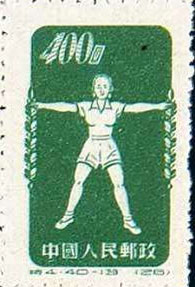 1952 Radio gymnastics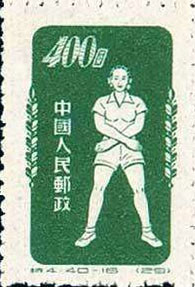 1952 Radio gymnastics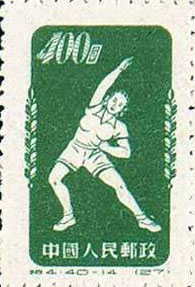 1952 Radio gymnastics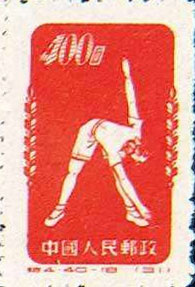 1952 Radio gymnastics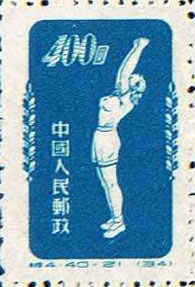 1952 Radio gymnastics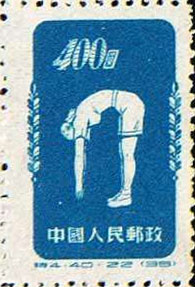 1952 Radio gymnastics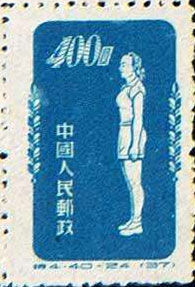 1952 Radio gymnastics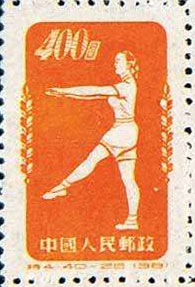 1952 Radio gymnastics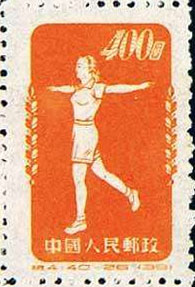 1952 Radio gymnastics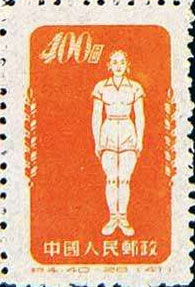 1952 Radio gymnastics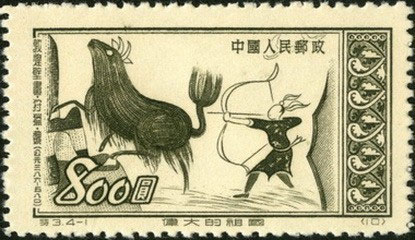 1952 Dunhuang Mural Art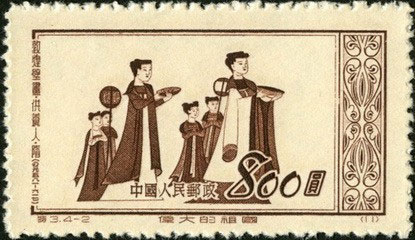 1952 Dunhuang Mural Art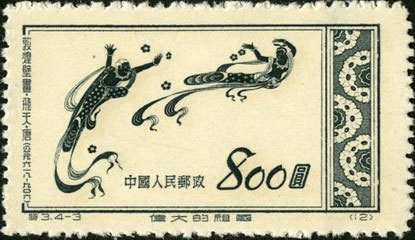 1952 Dunhuang Mural Art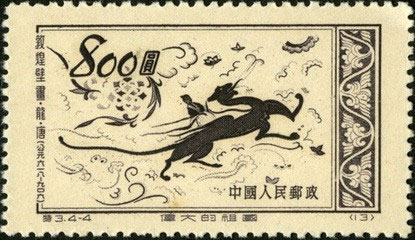 1952 Dunhuang Mural Art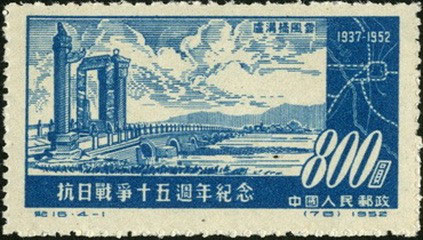 1952 Chinese-Japanese war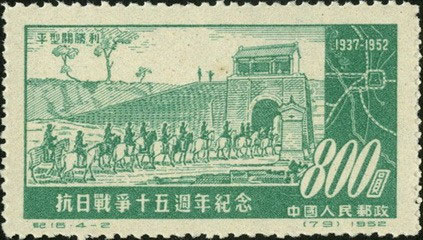 1952 Chinese-Japanese war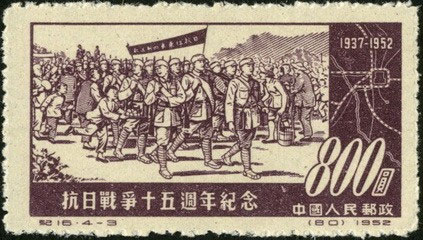 1952 Chinese-Japanese war
1952 Chinese-Japanese war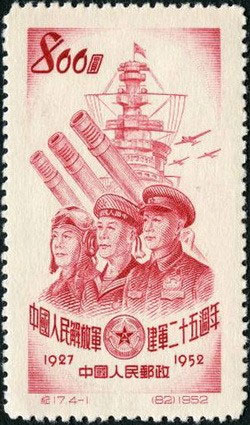 1952 25th year People's Liberation Army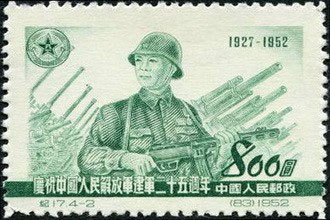 1952 25th year People's Liberation Army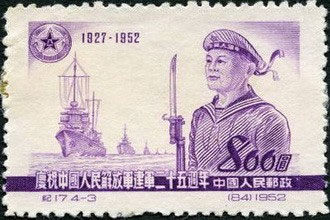 1952 25th year People's Liberation Army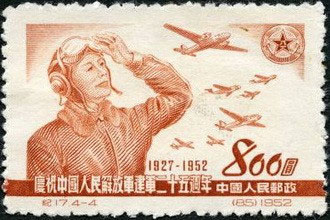 1952 25th year People's Liberation Army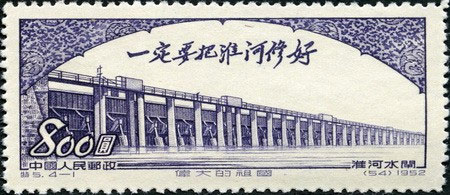 1952 Huai River barrage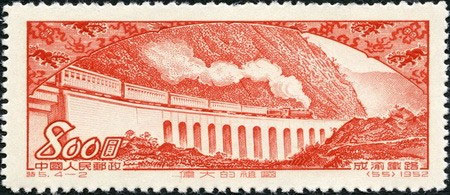 1952 Chongqing-Chengdu railway viaduct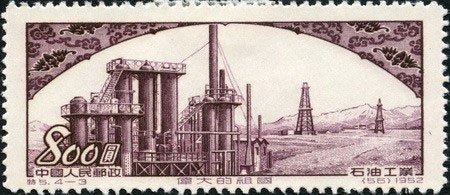 1952 Oil refinery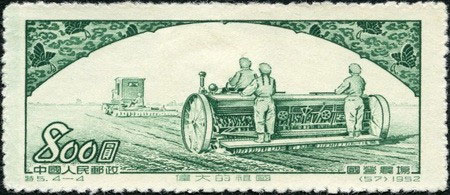 1952 Agricultural machinery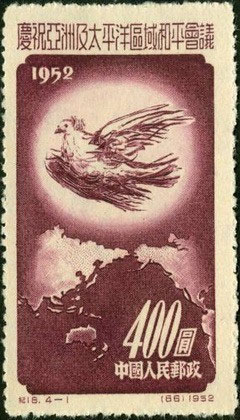 1952 Freedom conference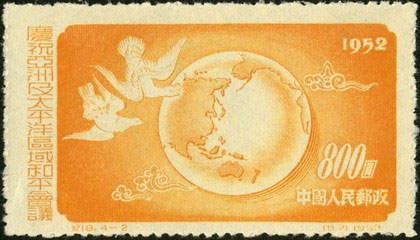 1952 Freedom conference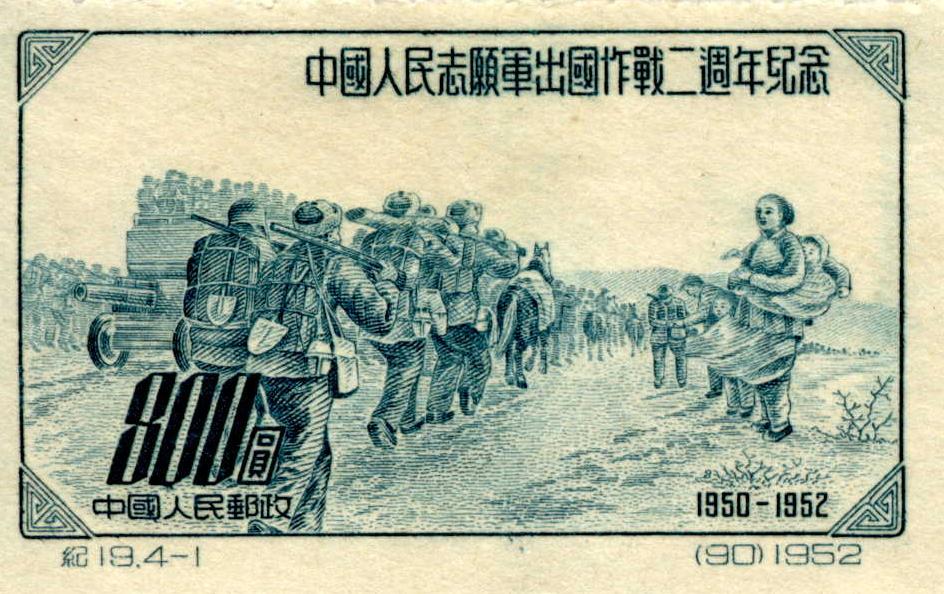 1952 Military aid for Korea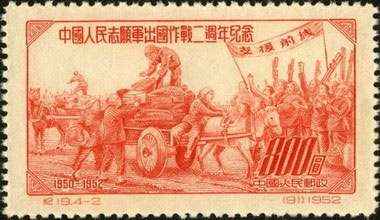 1952 Military aid for Korea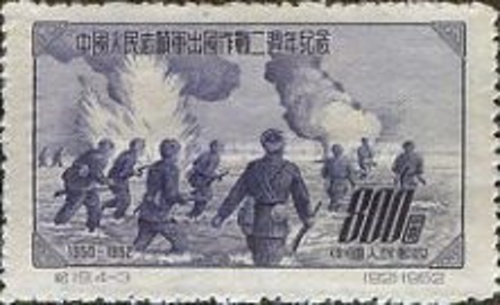 1952 Military aid for Korea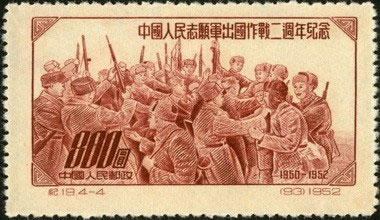 1952 Military aid for Korea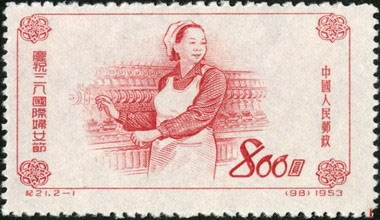 1953 International Women's day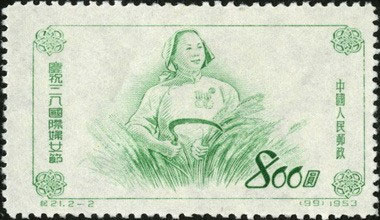 1953 International Women's day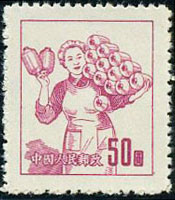 1953 Labour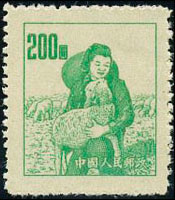 1953 Labour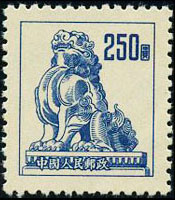 1953 Stone Lion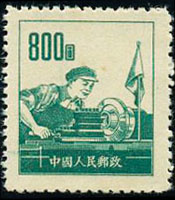 1953 Labour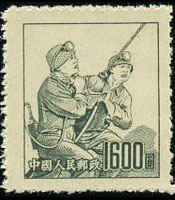 1953 Labour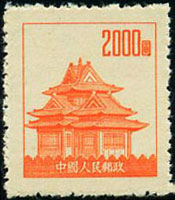 1953 Imperial palace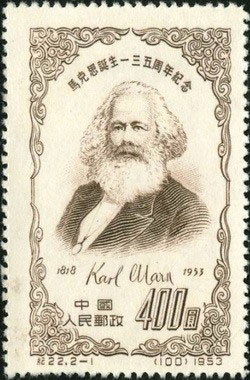 1953 Karl Marx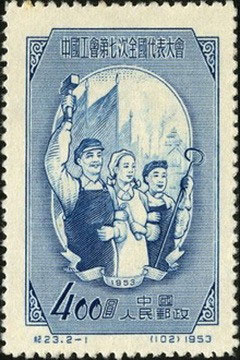 1953 7th All-China Trade Union Congress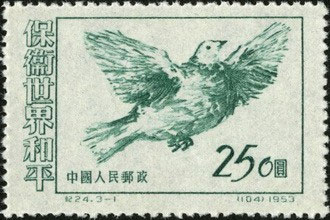 1953 Defend World Peace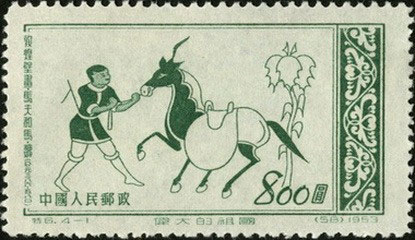 1953 Glorious motherland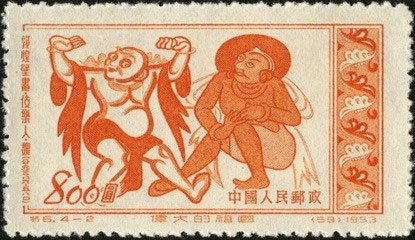 1953 Glorious motherland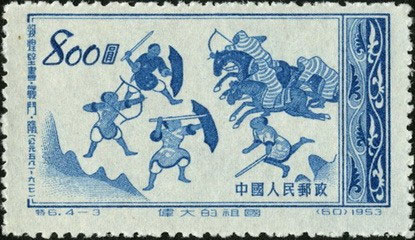 1953 Glorious motherland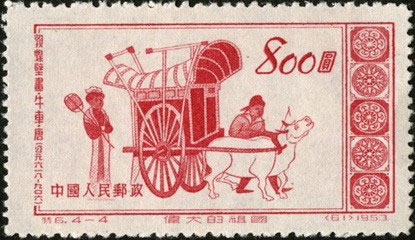 1953 Glorious motherland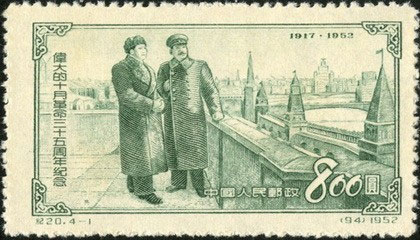 1953 35th Anniv. of Great October Revolution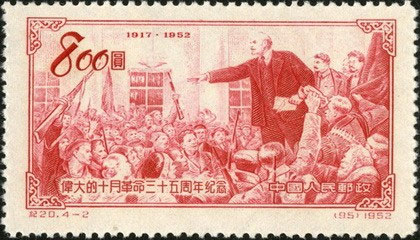 1953 35th Anniv. of Great October Revolution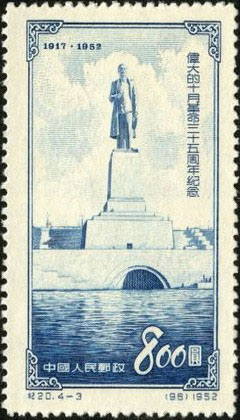 1953 35th Anniv. of Great October Revolution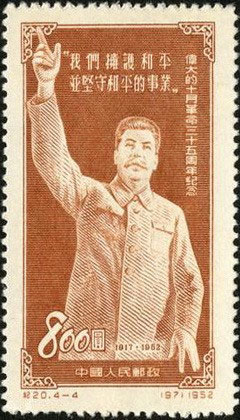 1953 35th Anniv. of Great October Revolution

1953 Glorious motherland

1953 Glorious motherland

1953 Glorious motherland

1953 Glorious motherland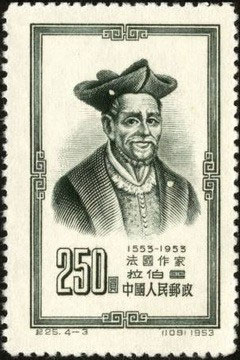 1953 Personalities Rabelais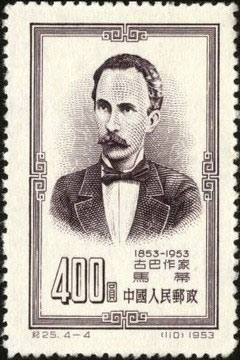 1953 Personalities Jose Marti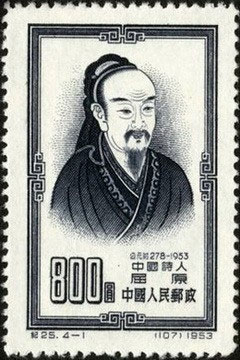 1953 Personalities Qu Yuan
1953 Personalities Copernicus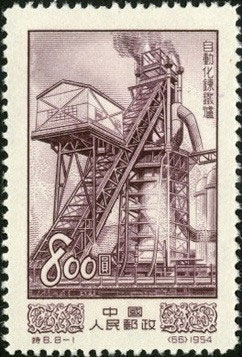 1954 Industry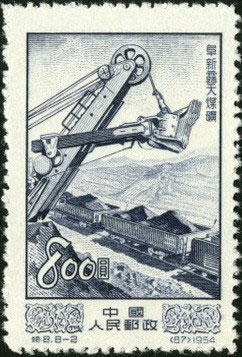 1954 Industry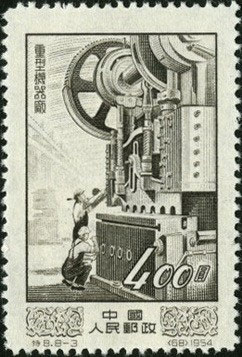 1954 Industry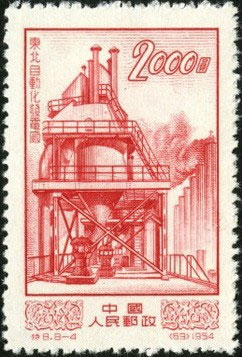 1954 Industry
1954 Industry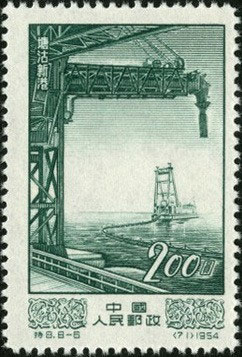 1954 Industry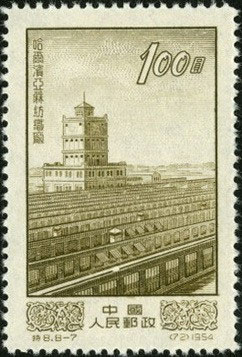 1954 Industry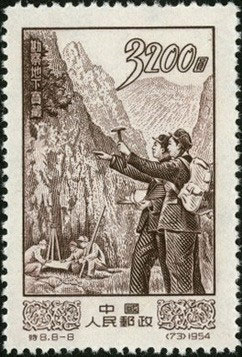 1954 Industry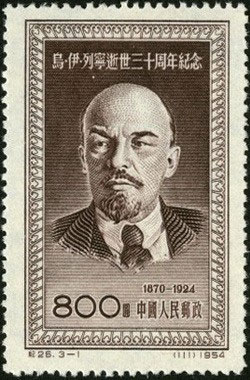 1954 Lenin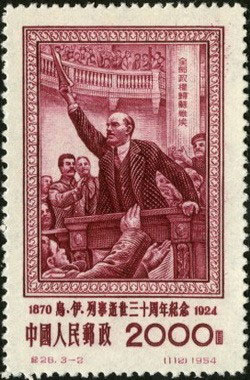 1954 Lenin

1954 Lenin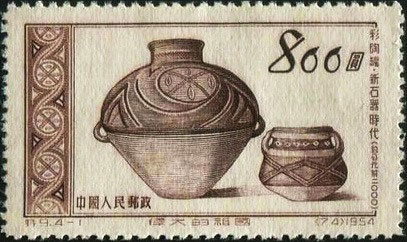 1954 Glorious motherland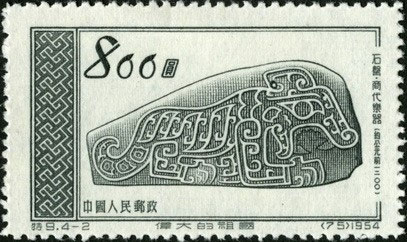 1954 Glorious motherland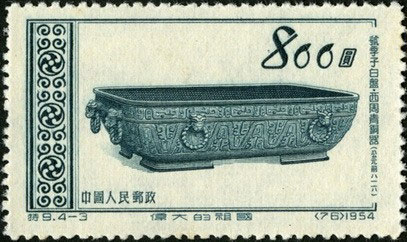 1954 Glorious motherland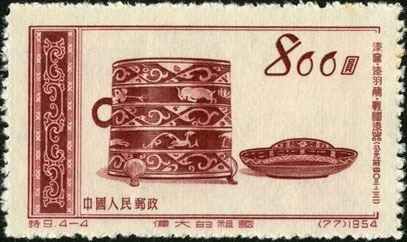 1954 Glorious motherland
1954 Industry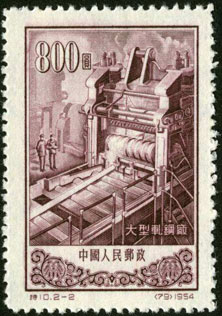 1954 Industry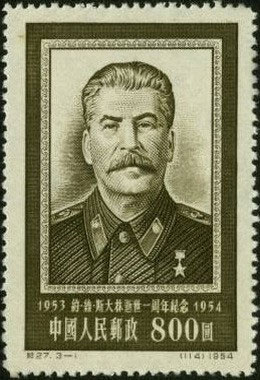 1954 Stalin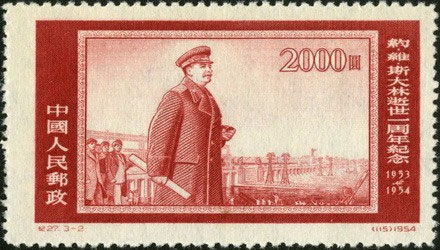 1954 Stalin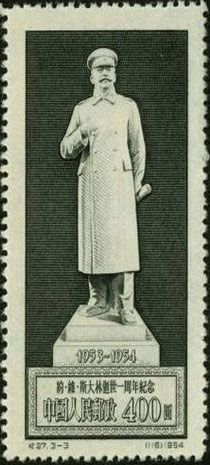 1954 Stalin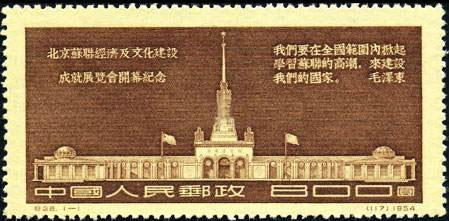 1954 SU exhibition hall
1954 Technics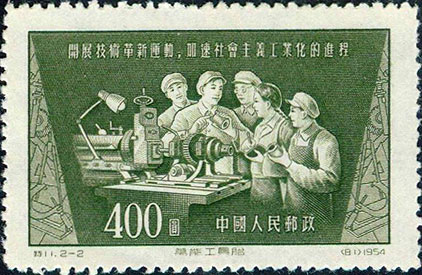 1954 Technics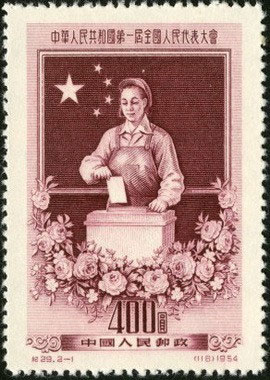 1954 Elections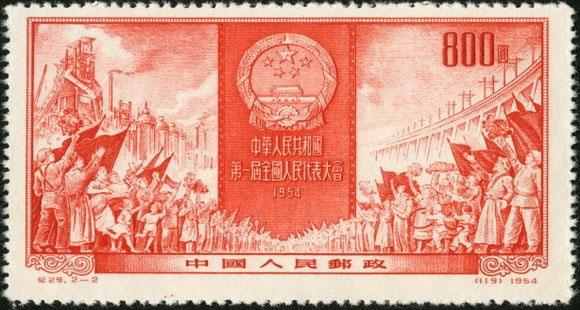 1954 1st National People's Congress of PRC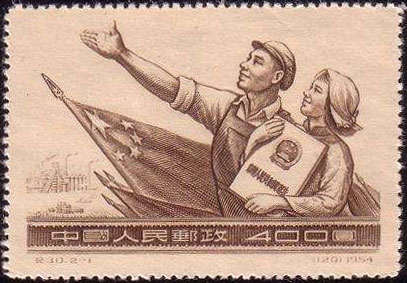 1954 Constitution
Source: https://www.xabusiness.com
---
Banknotes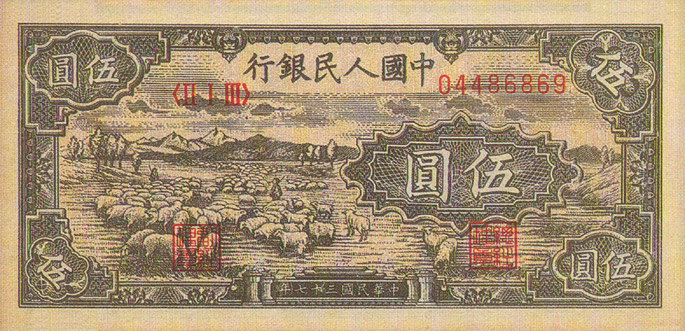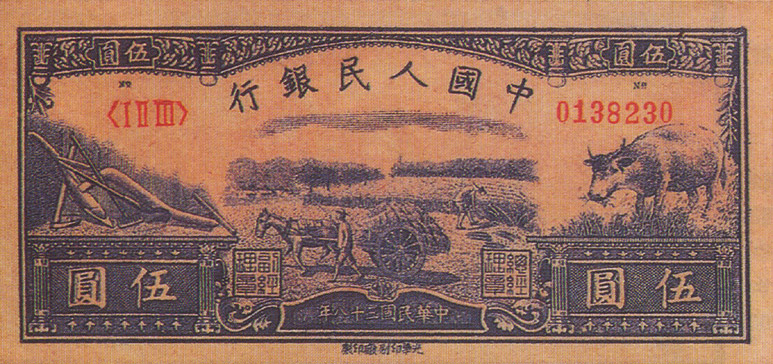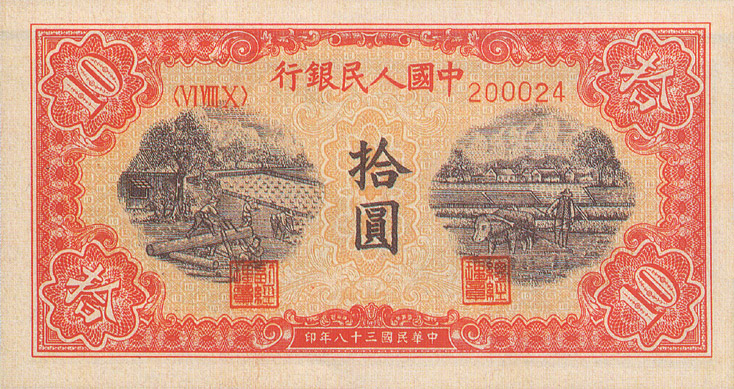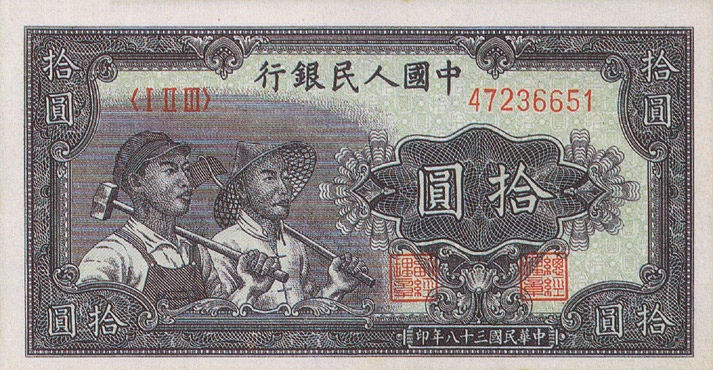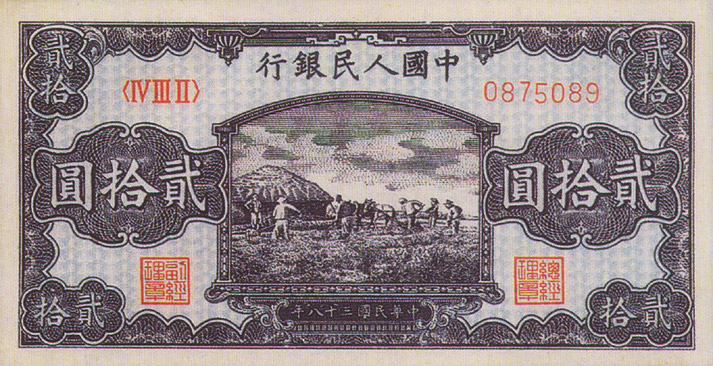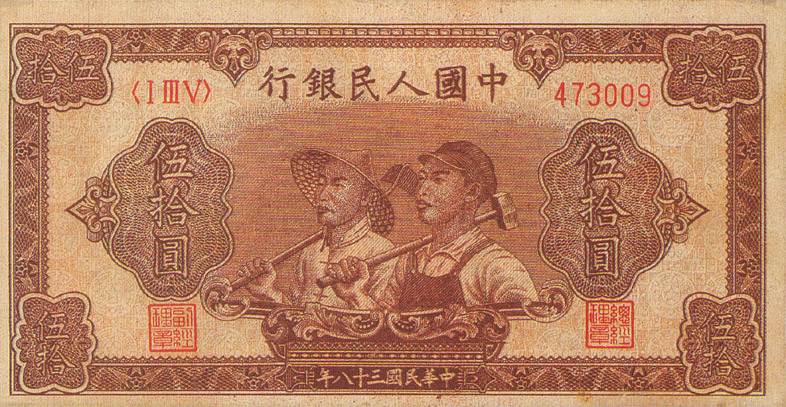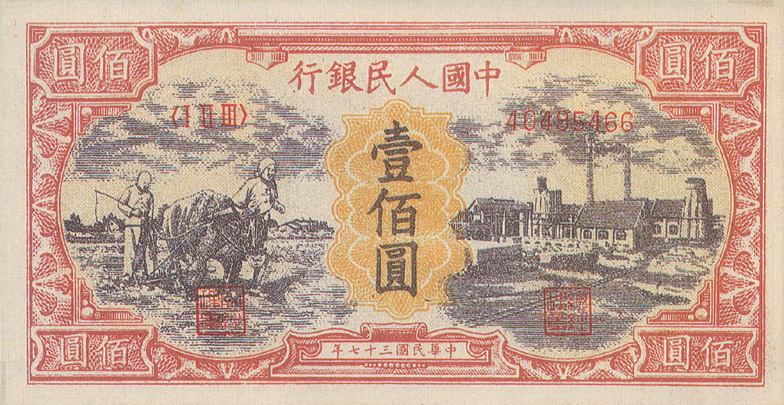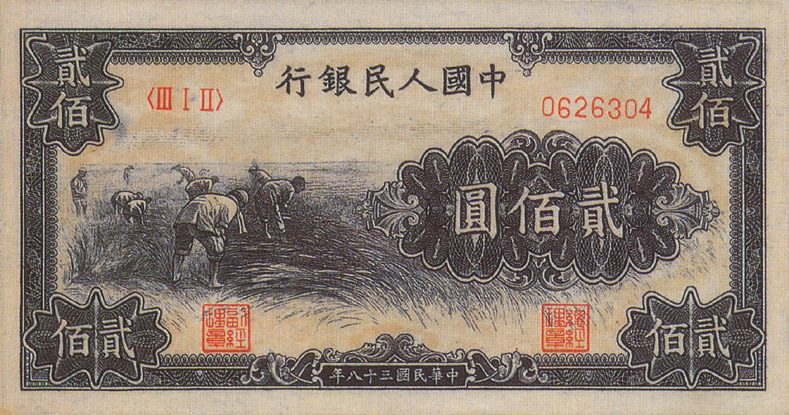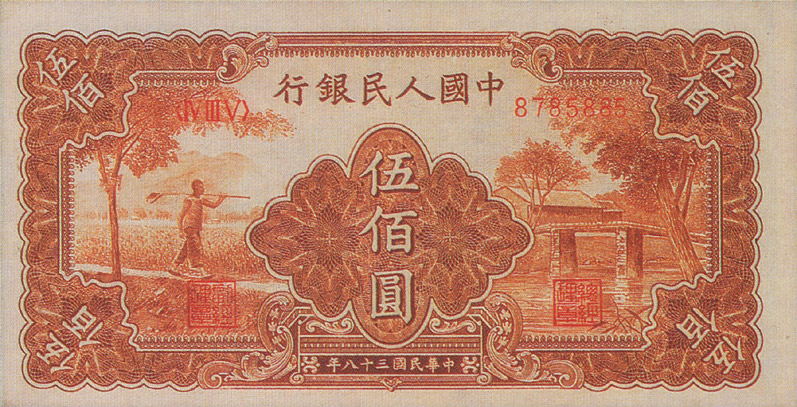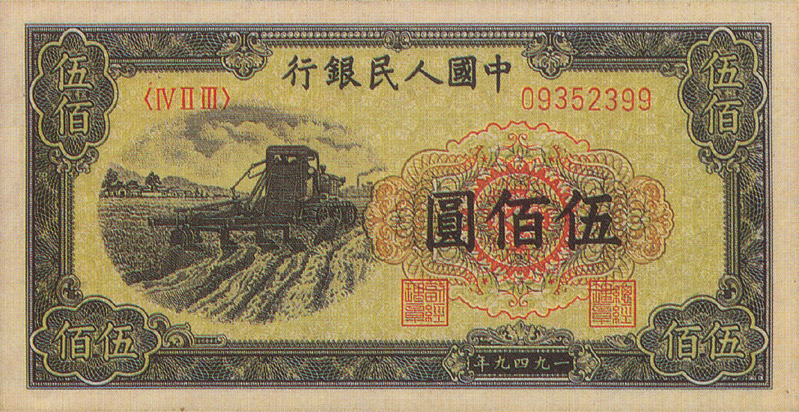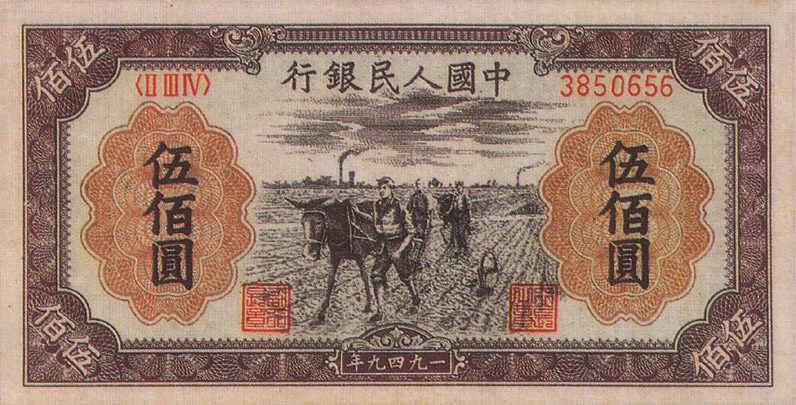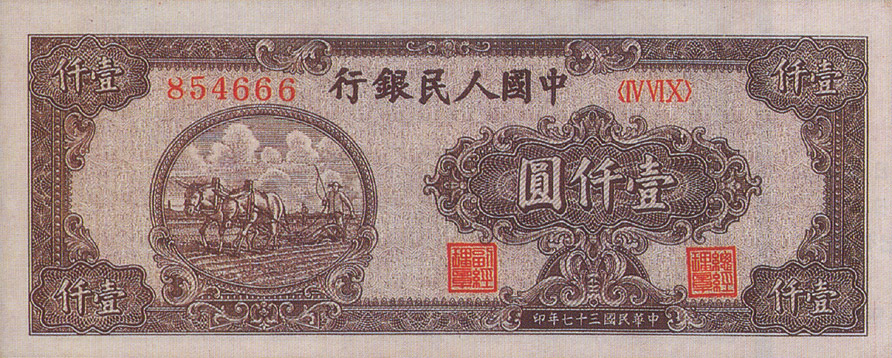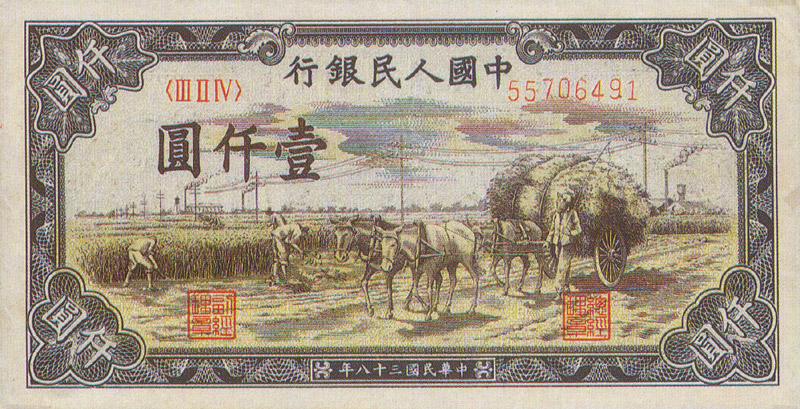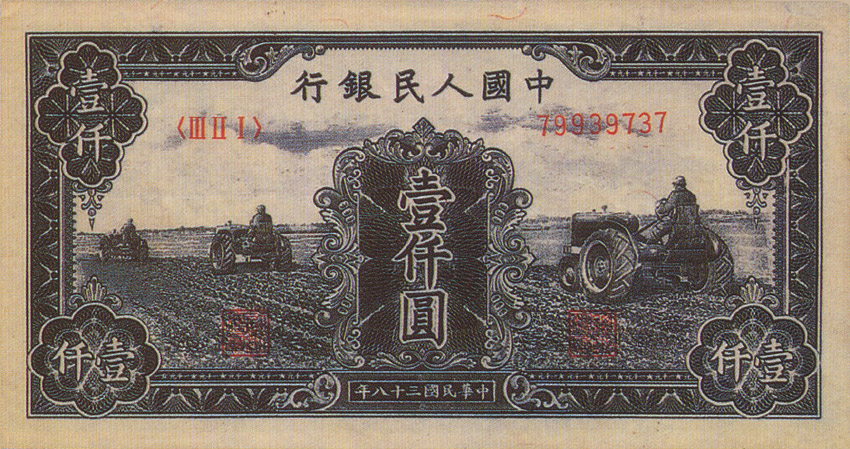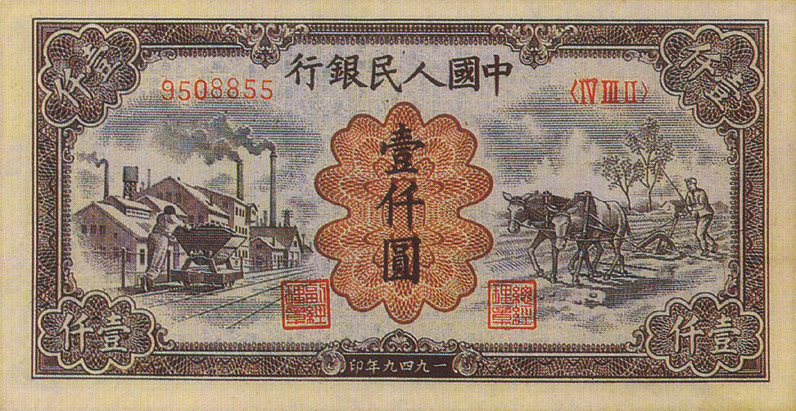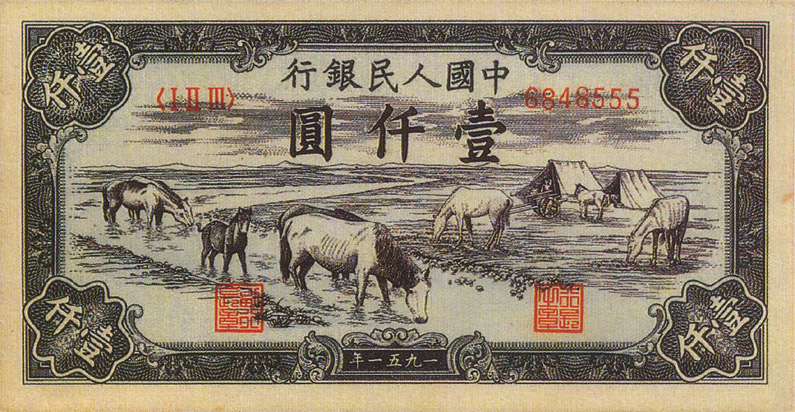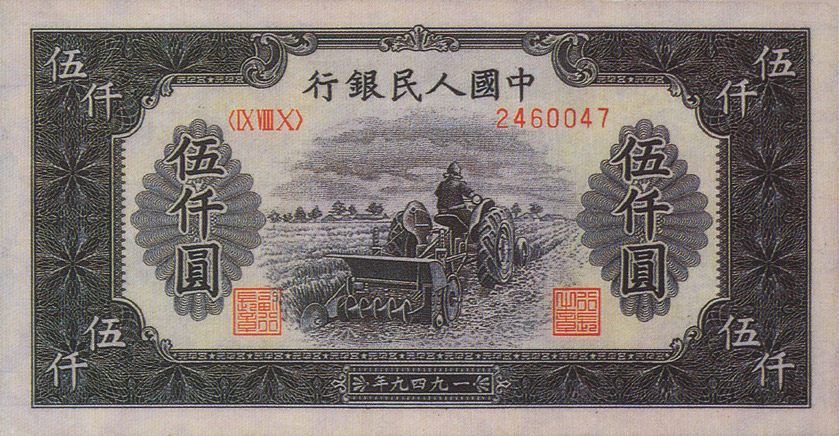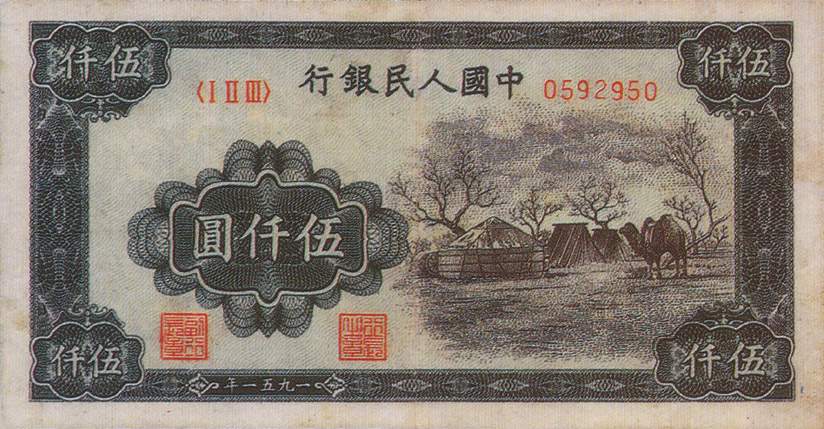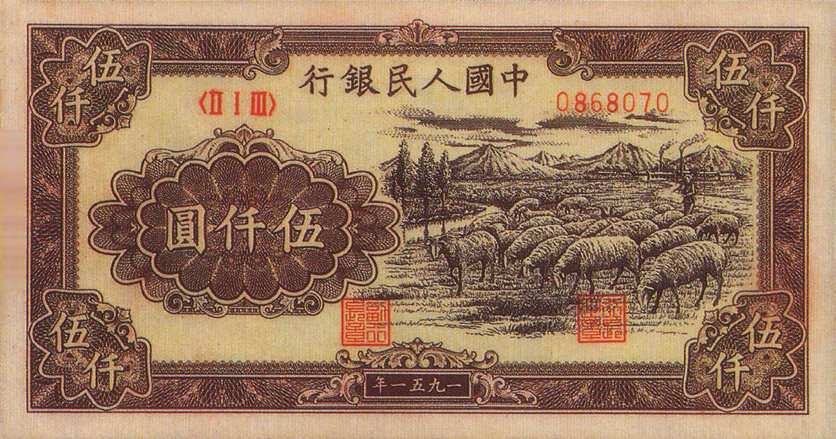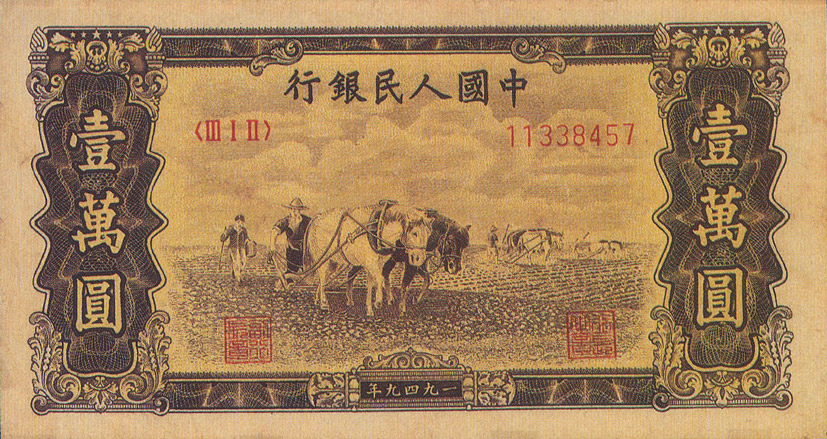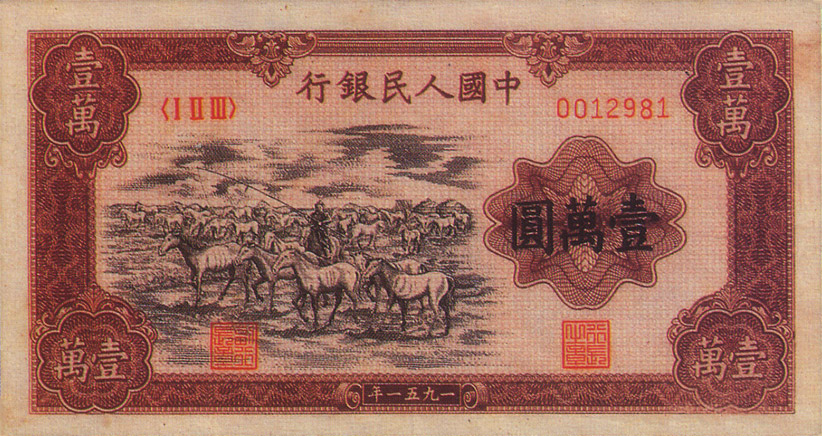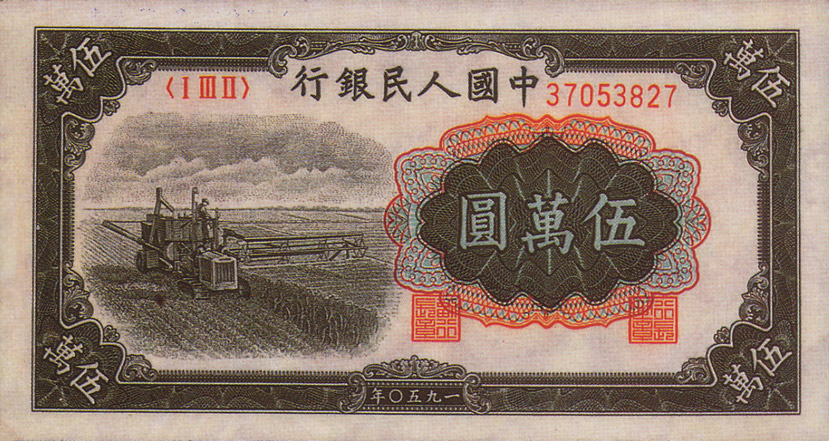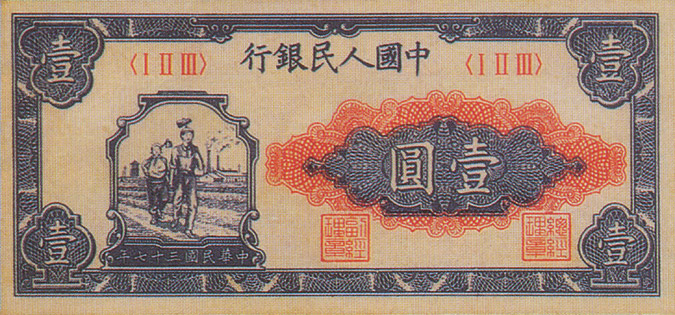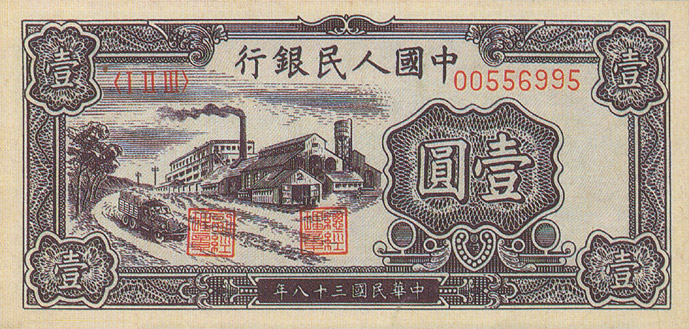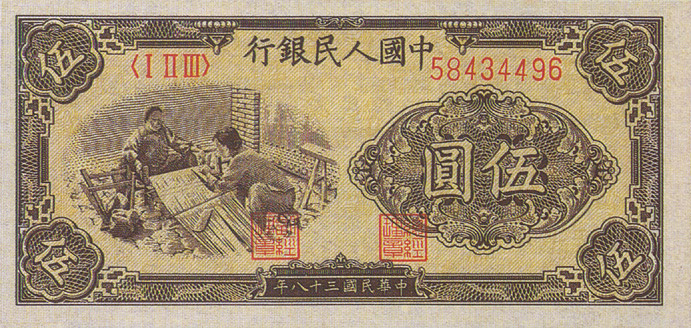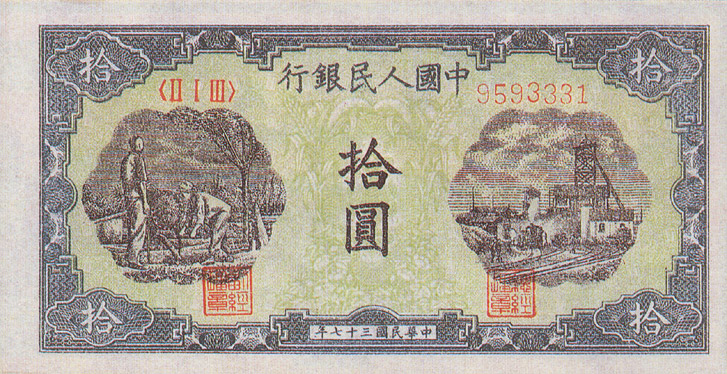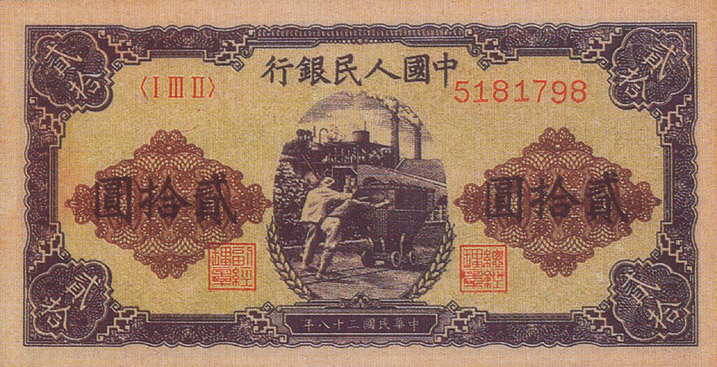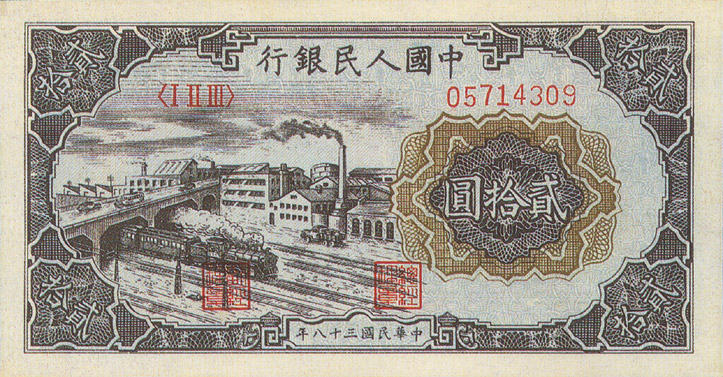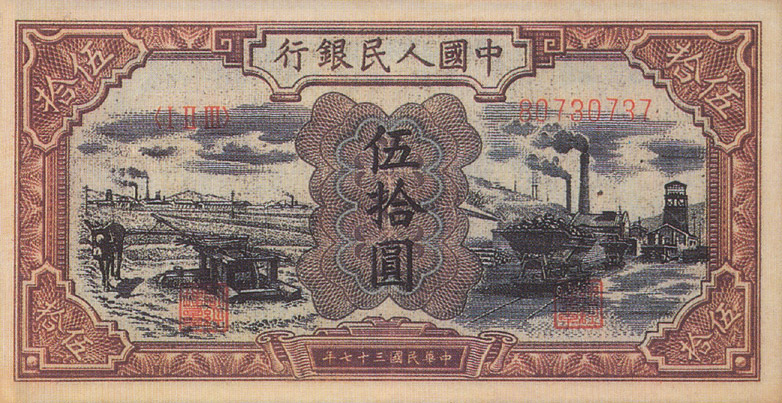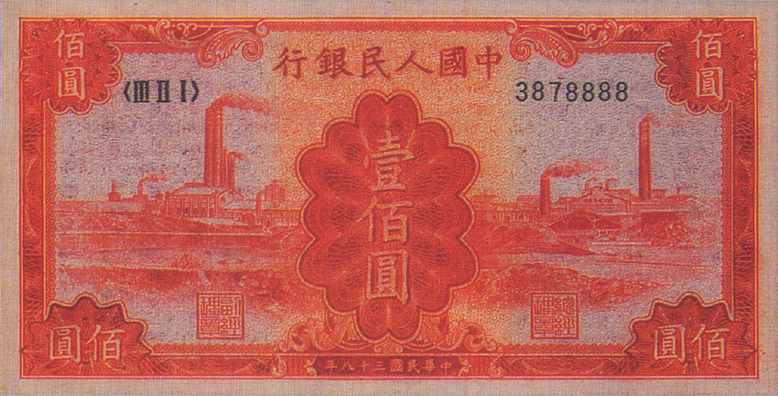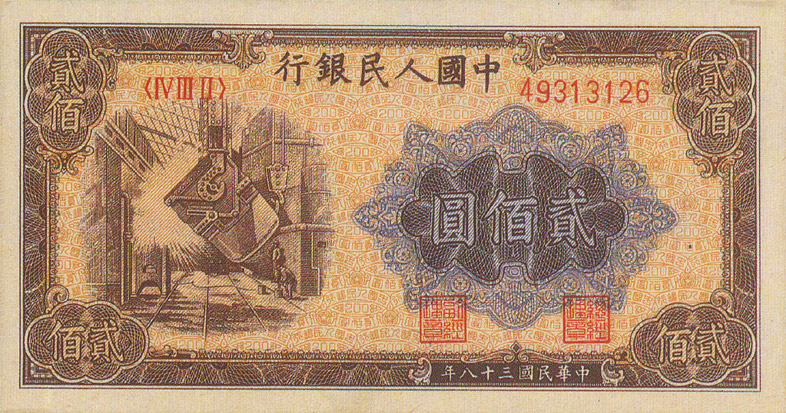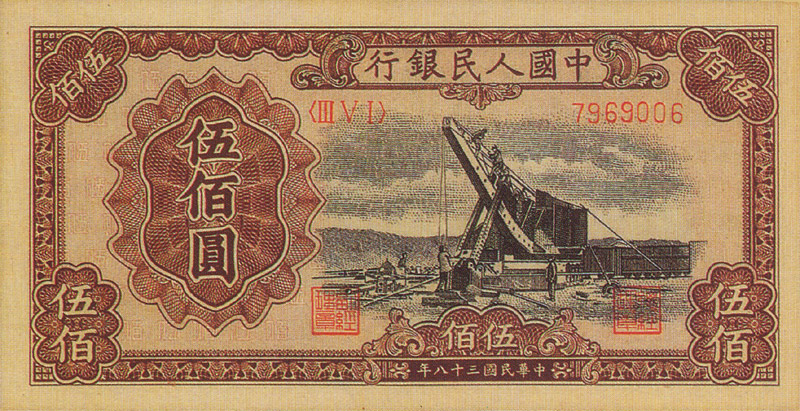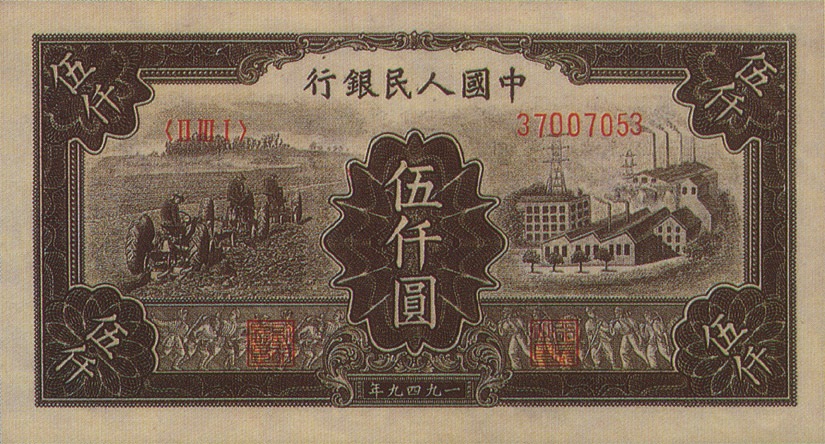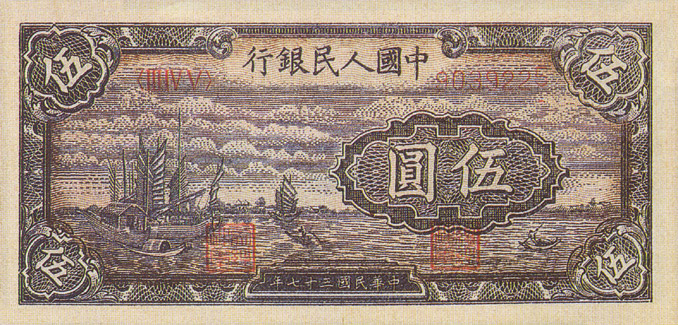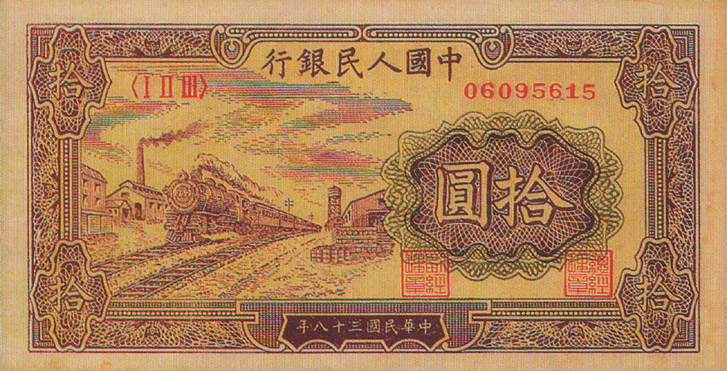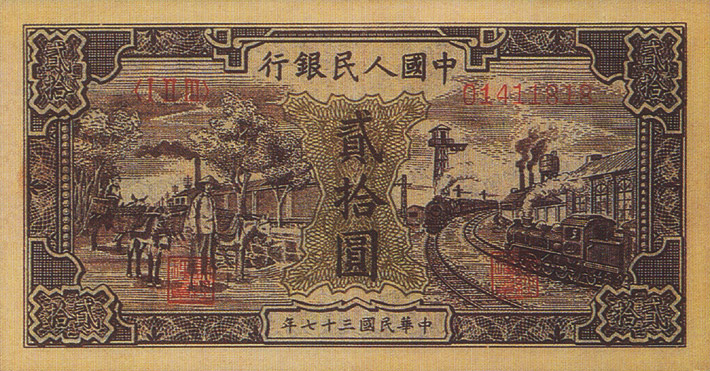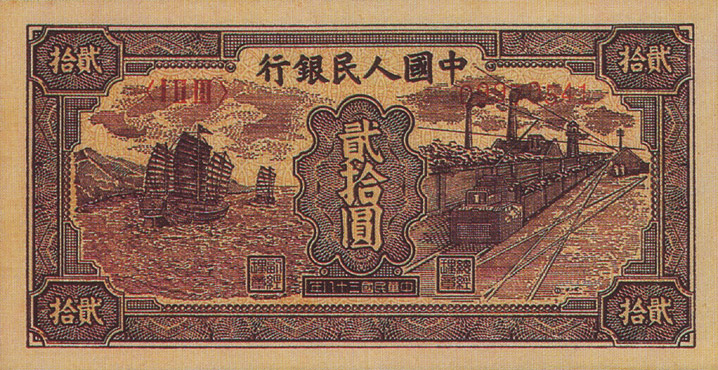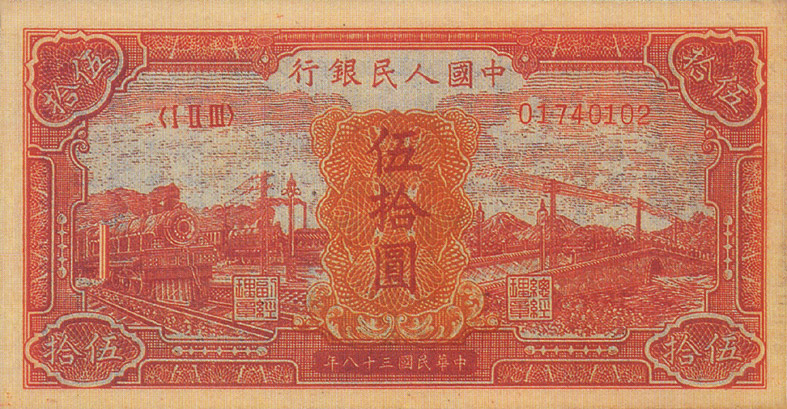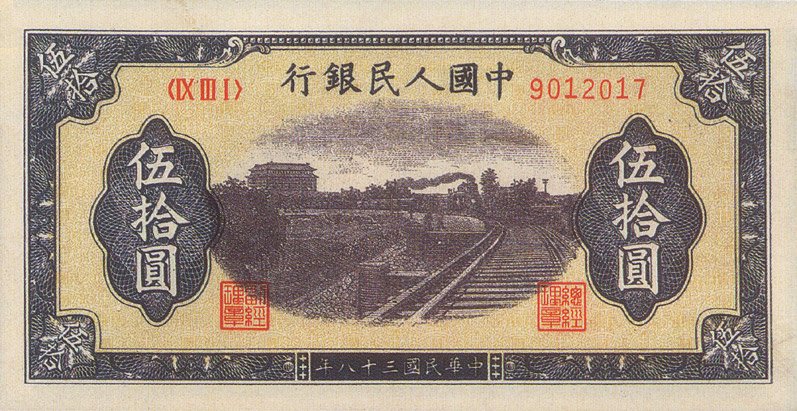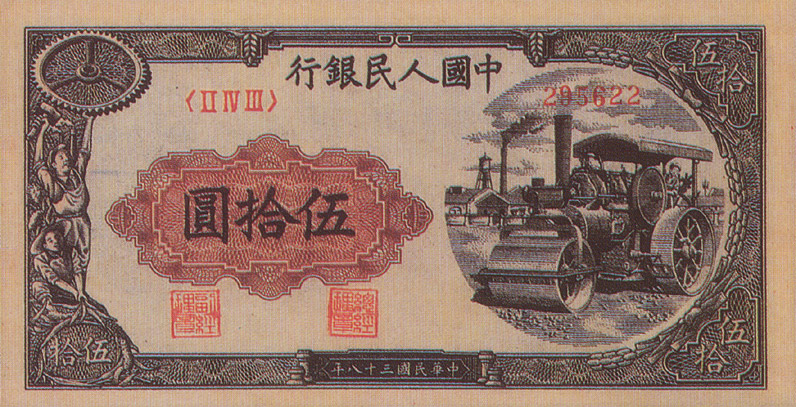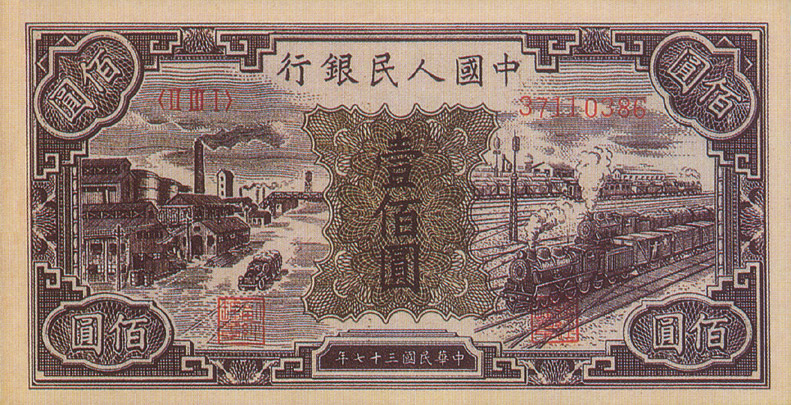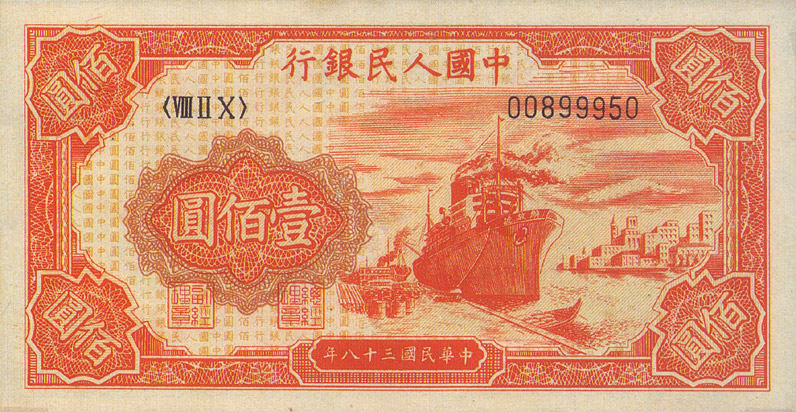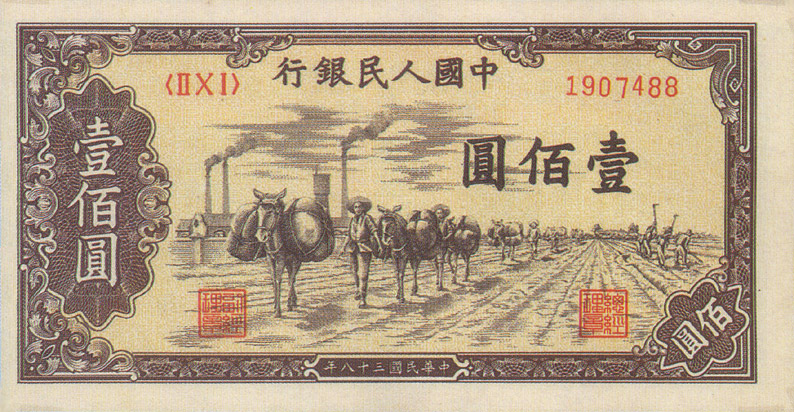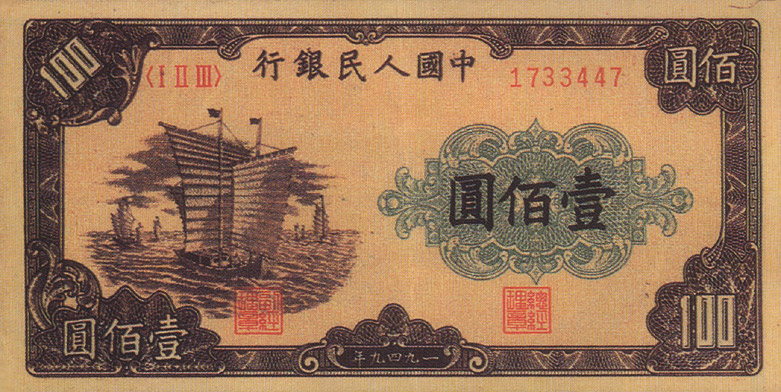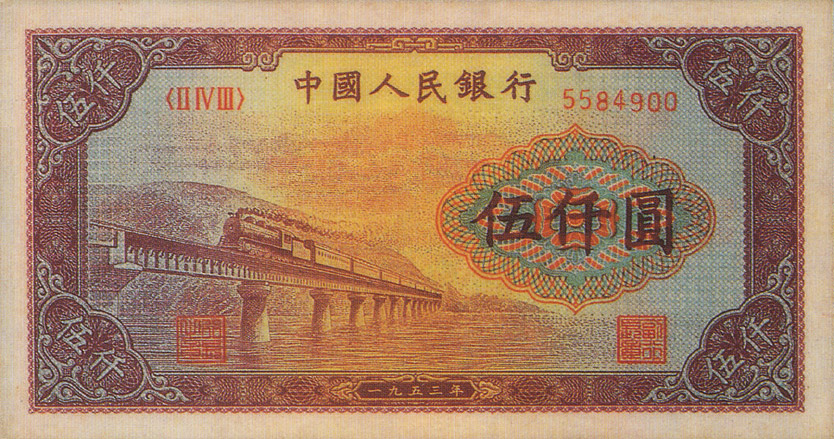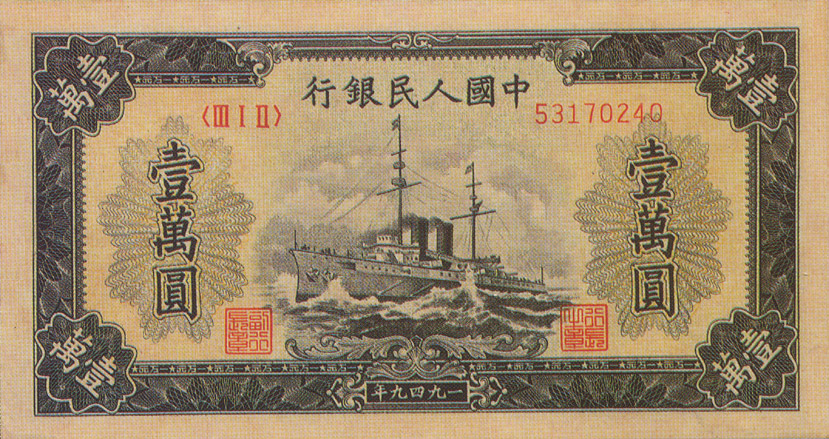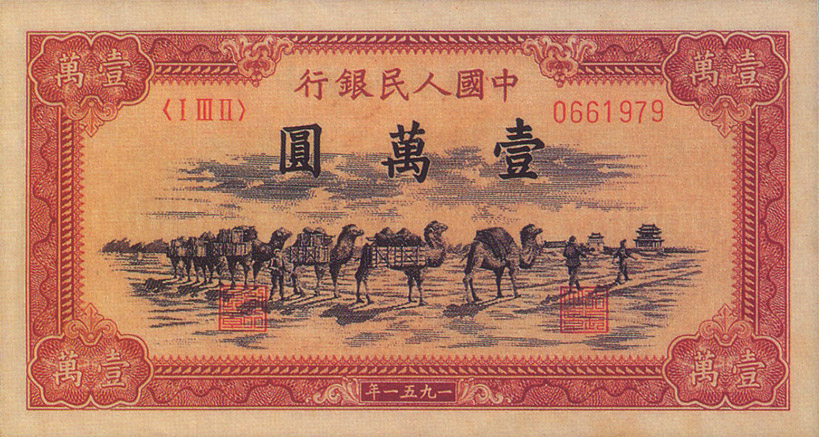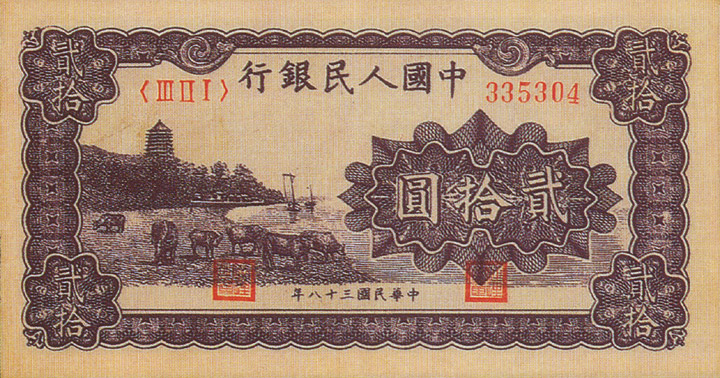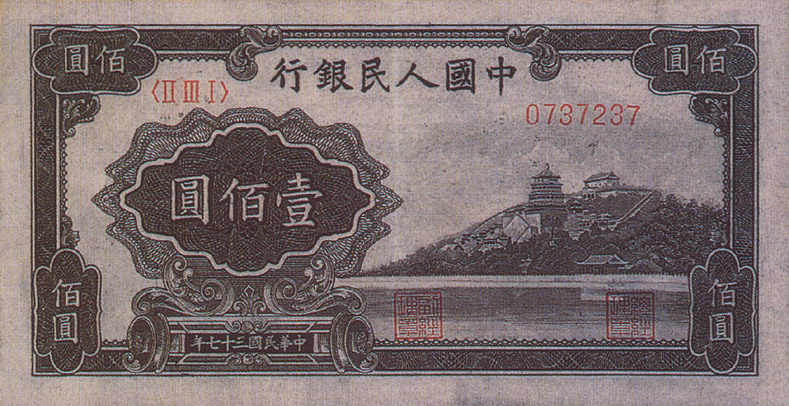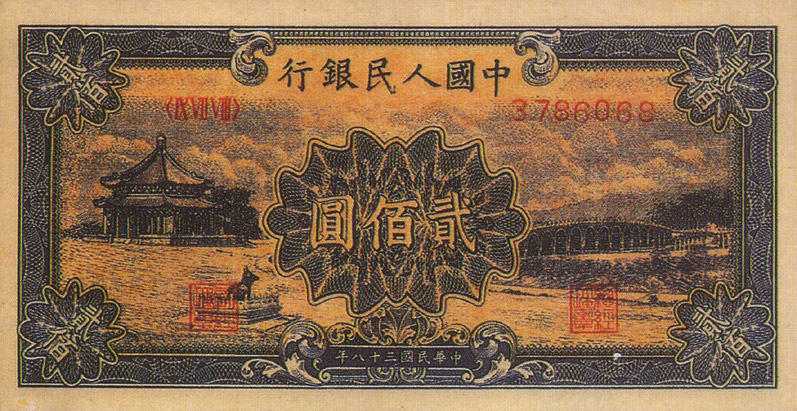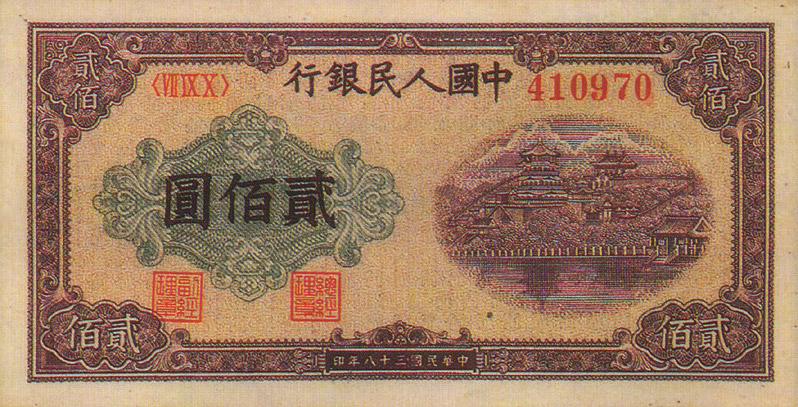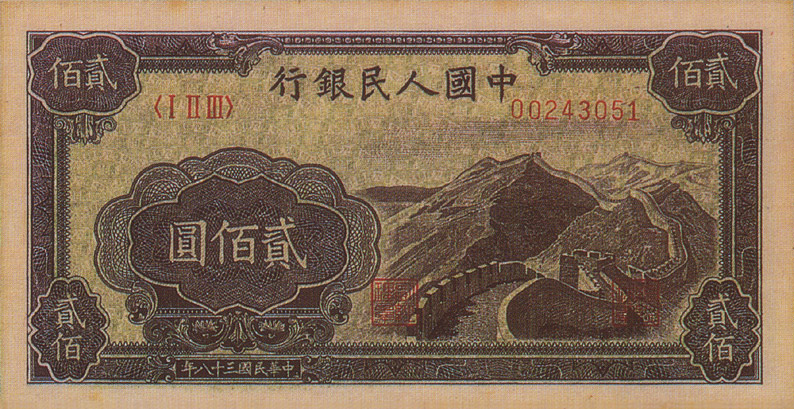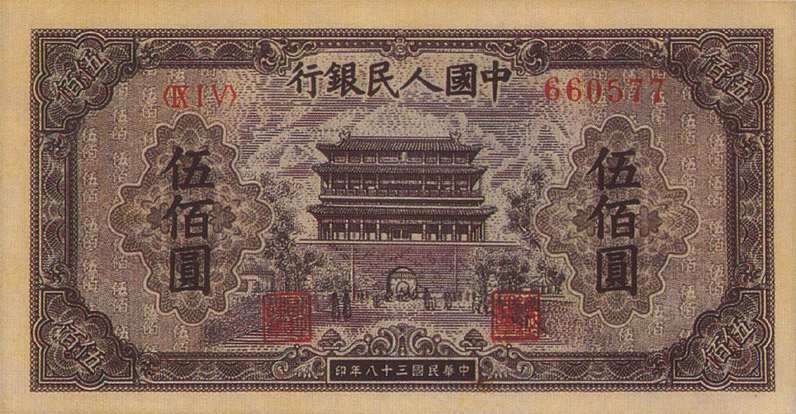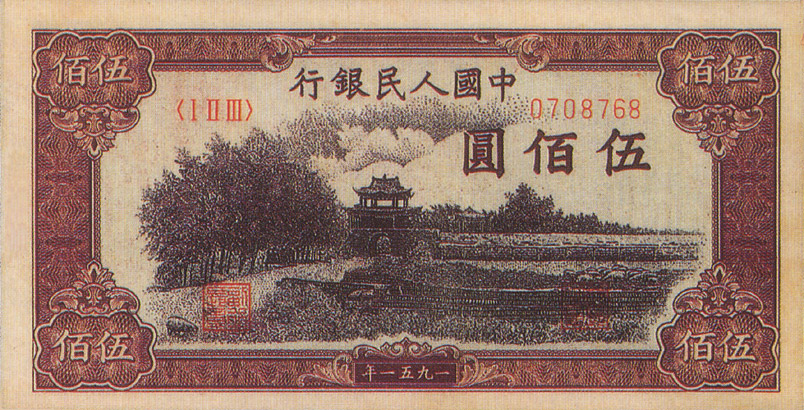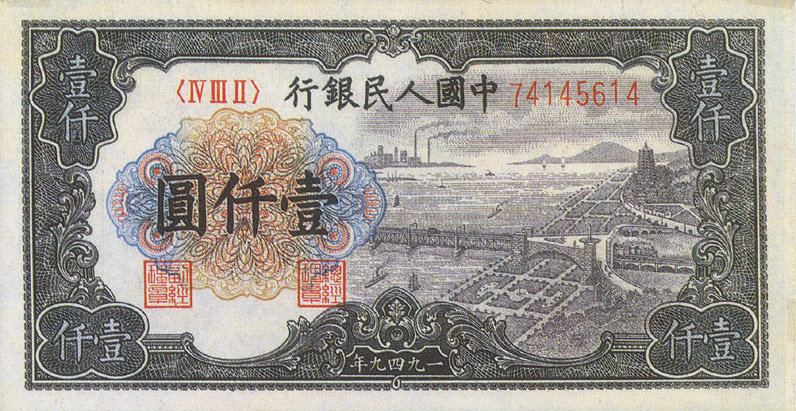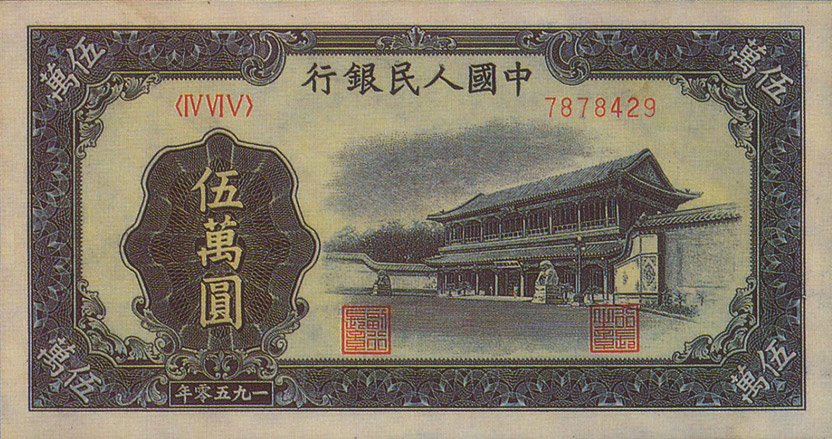 Source: https://www.sinobanknote.net/

Schwartz (2014) remarks "We have here a portrait, not of a leader or a historical or legendary figure, but of two characteristic citizens—a worker and peasant idealized in their pose, albeit with individual physiognomies. In China, numismatic portraits of any sort are a recent innovation....realistic portraits of any sort are rare before the appearance of Sun Yat-sen's portrait on Republican banknotes in 1923.5 Otherwise, landscapes, government buildings, and monuments are the usual images sharing pictorial fields on money cluttered with the ramified ornamentation and lettering of nineteenth-century steel engraving styles."
and he continues "Yet its demotic subject matter participates in a program depicting symmetry in agricultural and industrial production that governs the entire series and is carried through on other notes with landscapes that include factories and shepherds, weavers and irrigation procedures, trains and bridges, electrification projects, railway stations, and harrowing, threshing and fertilization scenes. On the formal side, most of these landscapes share with the worker-and-peasant two-shot a characteristically Socialist Realist deployment of heroic foreshortening and utopian out-of-frame space:... "
---